Managed Threat Detection & Response
Detecting, Preventing and Mitigating Threats
Crowdstrike Global Threat Report 2021
Bad stuff happens, but we're here to help.
Last year state-sponsored adversaries infiltrated networks to steal valuable data on vaccine research and government responses to the pandemic, criminal adversaries introduced new business models and both eCrime and targeted intrusion adversaries stepped up their development efforts. Now is probably a good time to look into EDR protection.
7 Trillion
Events per Week
You are always informed.
Every detection and potential action is reported to you in real time over your company communication channel.

We are here to help.
If you have a question around our service, vulnerabilities or impact, ask us for technical advice and let us delve into your question.
Never break your flow.
Stay within your company tools where you feel most comfortable. We will reach you the way you prefer.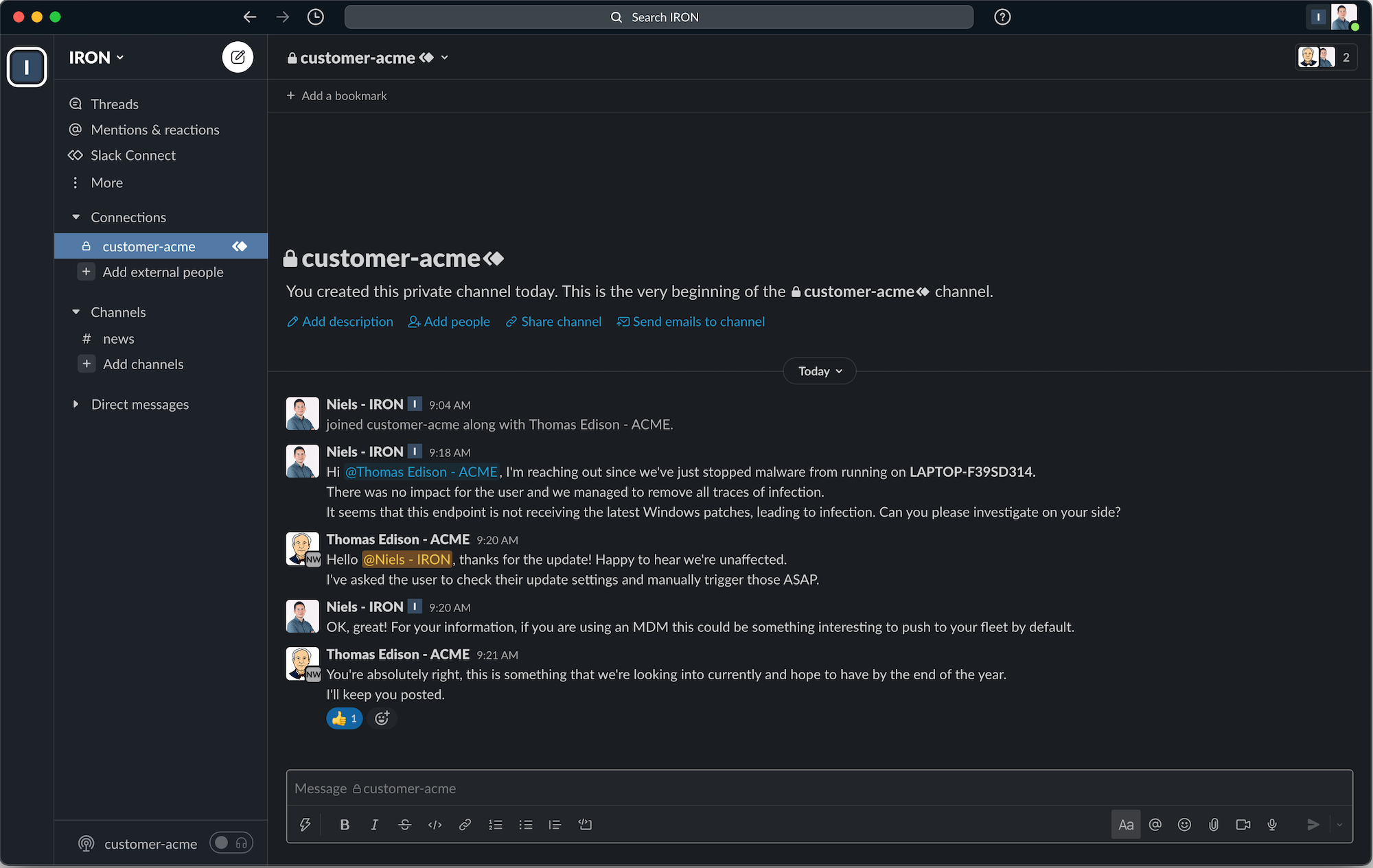 Agent signal Collection
The agent collects and ships security telemetry to the Threat Cloud securely. In case no network is available, on-device detection is performed. We support most common platforms including Kubernetes.
Cloud signal aggregation & detection
Signals are analyzed using crowdsourced static rulesets, Machine Learning models and threat intelligence to aggregate, identify and classify threats.
Threat Prevention
Signals are pushed through to static and Machine Learning models to aggregate into potential threats. Crowdsourced threat intelligence intelligence to identify and classify threats.
Incident After Care
Incident Response actions for further investigation and remediation of a detection is done completely remotely, even isolating an infection.
So how does it work?
We base ourselves upon a lightweight agent to collect security signals and perform automatic & manual threat hunting.
Getting the job done with the least amount of burden is our priority.
We treat device telemetry as confidential information and always process it according to the European GDPR legislation in the EU-WEST region.
Four Characteristics
% # we are happily compiling code without any performance impact!
% go build -o my-huge-app ./...
% # and note that the agent is not consuming a lot of resources
% top -c d -l 1 -stats "COMMAND,PID,CPU,MEM" | grep -Ei 'com.crowdstrike'
% com.crowdstrike. 1522   0.0  84739K
# some things may look suspicious but not enough to block
# e.g. manually compiling code with the msbuild c++ engine ("living of the land")
# and this alert will be triaged by us
C:\Users\iron\.NET\ > MSBuild.exe msupdate.xml
C:\Users\iron\.NET\ >
% # we will now try to extract the root password hash in a trivial way
% # this process can trigger a detection and be most likely blocked
% sudo grep root /etc/shadow
  process exited
% 
# we can do incident response remotely for manually investigating threats
C:\Users\iron\Downloads\> ls
Directory listing for C:\Users\iron\Downloads -
Name            Type       Size (bytes)
suspicious.dll  .dll       196
Service Pricing
Straight-forward pricing models, priced per endpoint per month.
EDR
Detection & Response
Full EDR coverage without the hard bits.
Windows, macOS, linux
Lightweight agent
Human alert triage
Incident Response
Proactive Threat Hunting
Technical Support
VMDR
Vulnerabilies & Patching
Detect missing patches & client vulnerabilities.
Windows, macOS, linux
Lightweight agent
Human alert triage
Incident Response
Proactive Threat Hunting
Technical Support
Endpoint patch & vulnerability detection
Endpoint Patch & Vulnerability triage
CSPM
Cloud Security
Discover cloud misconfigurations.
Google Cloud, Amazon Web Services, Azure
Service connector
Human alert triage
Incident Response
Technical Support
I'm sure you're still having loads of
questions

.

Let's go over the most common ones, but don't hesitate to just reach out for a talk.
It's recommended for business.
You want to be safeguarding your company assets in the most cost effective way possible, taking into account your revenue stream and growth cycle. Our services scale along your company while still providing you with the best security protection for all of the prevalent system platforms.
It's recommended for IT.
Building a SOC and monitoring team is resource intense and requires knowledge of the latest attack techniques which you might not have readily available internally. With the current state of the IT market it makes perfect sense to outsource specialized services in a cost-effective way so you can get back to building.
Ready to start improving your security posture?
Try our Managed Detection & Response today.
Get your IRON account